Daily Racing Form

Daily Racing Form Daily Racing Form Editions offer traditional past performances along with graded entries, track records, race analysis and selections. These detailed past performances contain all the information the sophisticated racing fan needs. Most Editions will also include analysis and selections, provided this information is supplied by Daily Racing Form.
Past Performances
Daily Racing Form's electronic past performances contain a wealth of data, which provide a detailed record of how a horse ran in its most recent starts. Available exclusively in each Daily Racing Form Edition are Beyer Speed Figures, which are a numerical assessment of a horse's performance and reflect the time of the race and the inherent speed of the track over which it was run.



Graded Entries
A condensed look at each race, which lists the post position, rider, weight, likely odds and a brief comment for each horse. Race conditions, equipment changes and probable post times are also provided.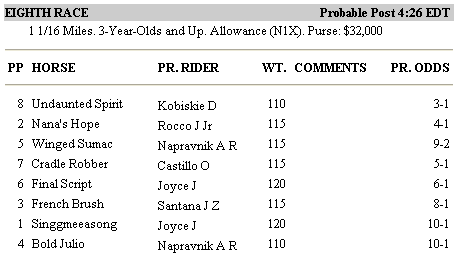 Track Records
A list of the track records for every distance run at a selected track.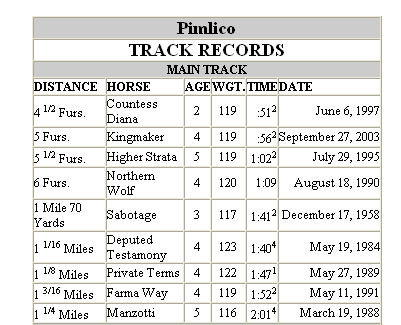 Race Analysis
One of the Daily Racing Form's veteran handicappers provides detailed analysis of their top three contenders in most cards you have selected. A best bet is also given.



Selections
The top three selections from four different handicappers are provided then totaled based upon a point system, which yields a consensus selection for every race on the card. Each handicapper also selects a best bet of the day, which appears in bold face type.